YOUR RIVERWATCH GUIDES
At the heart of RiverWatch are our Interpretative River Guides, who bring the river, its watershed, and the city's history, culture, and geology to life. We are incredibly fortunate to have a team of super smart and highly skilled guides who are passionate about nature, science, and the river and excel in communicating with our students and guests.
To become a RiverWatch guide, individuals must complete an intense week of training that covers a range of topics, including rafting, emergency response, health and safety, equipment maintenance, and water quality monitoring, as well as natural history interpretation, science curriculum, and wastewater tours. This comprehensive training program ensures that our professional river guides are fully prepared to work with students and clients on Alberta's rivers.
For many, being a RiverWatch Interpretative River Guide is the perfect summer job, particularly for post-secondary students studying environmental sciences. Our team also includes nationally certified nature interpreters and skilled whitewater paddlers, creating a diverse culture that supports one another to provide the best possible experience on the river for our students and guests.
Leadership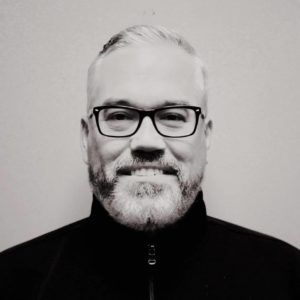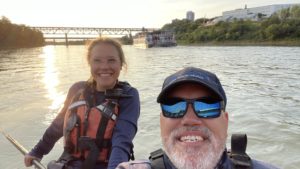 A message from Jay Ball – Executive Director, The RiverWatch Institute of Alberta
"The experience is everything. RiverWatch offers an extraordinary opportunity to connect students and the public at large to the waterways of our province. I aim to work with our amazing staff and stakeholders to create the best possible experiences for all our students and guests, enabling everyone to understand rivers' crucial role in our planet. Through RiverWatch, we will foster an appreciation of our watersheds and the scientific principles that underpin them, empowering individuals to become informed and active stewards of these essential resources. By promoting a hands-on, immersive approach to education, we hope to inspire a lifelong passion for environmental conservation and contribute to a more sustainable future for our communities and our planet. I believe everyone should have the opportunity to explore and learn from our rivers and watersheds, and I'm committed to providing high-quality, engaging experiences that are accessible to all. At RiverWatch, we are dedicated to creating a welcoming, inclusive environment that celebrates diversity and encourages exploration, discovery, and learning.
I am grateful to be part of such an extraordinary organization. I will continue to build on the vision of the founders of RiverWatch to spark curiosity, encourage critical thinking, and inspire individuals to make a positive difference in the world around them."
---
Jay was appointed Executive Director of RiverWatch in the summer of 2022.
Jay is a passionate and culture-focused leader with a career that includes 14 years as President/CEO in the not-for-profit education space. He has a proven track record of success as an experience provider and branding executive in the private and sports sectors.
Throughout his career, Jay has been guided by a strong sense of purpose, creating emotional moments, deep connections, and powerful experiences between people and the brands he represents. In addition to his professional accomplishments, Jay has also dedicated his time and expertise to various leading volunteer boards, including the Edmonton Public Library, the Edmonton Chamber of Commerce, and Edmonton Special Olympics. He is a Charter Class alumnus of Leadership Edmonton and a Senator of JCI International. Outside of work, 
Jay's passion for sports has led him to play a leading or support role in various sports organizations and events, including the Edmonton Oilers Hockey Club, the World Junior Hockey Championships, the FIFA Women's World Cup and FC Edmonton of the Canadian Premier League. In addition to his professional achievements, Jay's dedication to volunteering and community involvement is demonstrated through his leadership and support roles in various CFL, NHL, and community sports boards and events. Jay, his family, and their dog "Barry" reside in Edmonton, where they enjoy exploring the great outdoors and fishing in Alberta's rivers and lakes.