Safety Overview
Safety and participant comfort is the first priority in all our programs, and nearly 150,000 students have safely enjoyed participation in award-winning RiverWatch School Programs since 1995.
Our remarkable safety record represents approximately 800,000 student hours and more than a million student kilometers in rafts without any safety incident requiring EMS 911 emergency medical services.
RiverWatch rafts are used to transport participants along a ten-kilometer section of their local river, with participants providing the paddling power. Everyone is kept safe and comfortable through a combination of policy, procedures, information, equipment and training.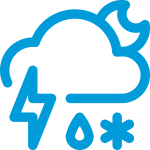 Weather Guidelines
While student comfort and safety are always top priority, not every day outdoors is sunny, dry or warm — that's the nature of field science!
On inclement days, students are kept as warm as possible by using a combination of physical activity, raincoats, life jackets and heated shelters for lunch.
Trips may be modified or shortened in the event of light rain, some cold or some wind but usually not cancelled.
Forecasts can change or be inaccurate, so as often as possible, it's best to make cancellation decisions right up until early morning of the trip day. Considerations that can modify, shorten or cancel a trip include:
Morning temperatures at 10 a.m. below 1 ºC or below 7 ºC on rainy days
Afternoon temperatures not reaching 5 ºC
Steady rain, significant on-the-ground snow or strong winds

Weather Guidelines
RiverWatch participants are not required to be comfortable swimmers – the safest place to be is seated inside a raft or standing on-shore while always wearing a life jacket.
Life jackets are worn at all times on-river and along shorelines.
A safety briefing is given prior to boarding rafts.
There is a qualified and experienced guide in each raft who is certified to Transport Canada commercial rafting standards.
RiverWatch raft trips use the easiest Grade I rivers with clear navigation and three main river hazards.
Rocks – mid-river rocks and bridge pillars
Wood – fallen and/or submerged shoreline trees
Falling Overboard – not likely, but possible
River hazards are controlled in the following manner:
Rocks and Wood – participants listen to the guide's commands and paddle as asked
Falling Overboard – participants grab the raft lifeline or an extended paddle and do not stand-up

Riverwatch Safety Equipment
Large professional-sized rafts are used for a stable platform from which to view the river. Additionally, RiverWatch provides:
Type V personal flotation devices (life jackets) as mandated by Transport Canada and the Coast Guard.
Approved and properly-fitted life jackets worn at all times on or near the water.
A pre-trip safety briefing on how to fit a life jacket, prevent incidents and handle emergencies.
Chemistry lab safety during water quality testing as required in all laboratories – safety glasses, garbage containers, liquid waste collection bottles, broken glass container, first-aid kit and eyewash.
Rubber boots and raincoats for use in cool or wet weather.

Informed Consent
For RiverWatch school programs, detailed pre-trip information is provided through the school describing "who, what, where, when and how".
Parents acknowledge that all water activities are associated with some risk and grant permission to participant based on informed consent.
All our programs include a pre-trip on-site safety briefing to explain trip logistics, hazards and safety response.

Riverwatch Guide
RiverWatch guides are trained to Transport Canada Commercial Rafting Standards.
Guides have Standard First Aid certification and/or may also have Wilderness First Aid, National Lifeguard Society, Swift Water Rescue or Emergency Medical Responder training.
All river guides have lifetime experience with paddling canoes or kayaks and receive pre-season raft training to Transport Canada commercial rafting standards.

Informed Consent
After more than 800,000 student hours and more than a million student kilometers in rafts, there has never been a RiverWatch safety incident requiring EMS 911 emergency medical services.
RiverWatch guides carry an emergency responte plan, first aid kit, rescue rope, dry spare clothing and a cell phone.
RiverWatch operates within urban centres that have calling access to EMS 911.